1 Day Ranch, the sanctuary caring for Sam the dog, hopes this story makes others think more about animals and their emotional intelligence.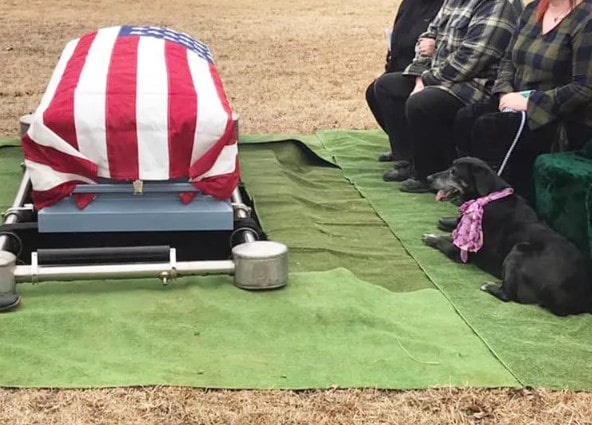 It's been a rough couple weeks for Sam, but she is getting stronger everyday.
The Lab, who might be as old as 20, was recently found sitting by her dead owner's side at a home near Bethel Acres, Oklahoma. Sam was likely watching over her owner, Arthur, alone for a day before the elderly man's body was found by his neighbor and friend Phillip.
It was clear that Sam had a deep connection to her owner. She was reluctant to leave his side when authorities came to move his body.
"Obviously the man did something right, a lot of love goes a long way," Maeghan Olsen, the founder and director of 1 Day Ranch told.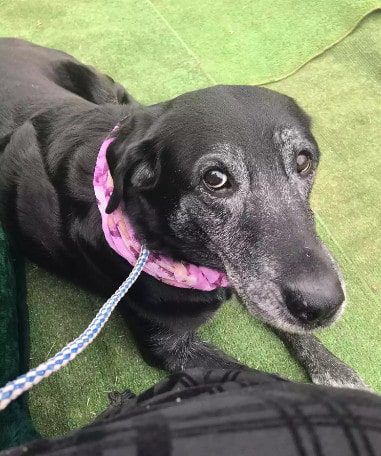 Olsen was called in to help safely remove Sam from the house, so Arthur's body could be taken out. Since then, the senior dog has been under the care of 1 Day Ranch, staying at Olsen's home on the property. The sanctuary, which provides shelter and support for neglected and abused animals, established several goals for Sam when she arrived.
The first was finding a way for the Lab to attend her late owner's funeral. Sam got to say her final goodbye on Friday, at a small ceremony at a cemetery in McLoud, Oklahoma. Along with Sam, who came to the funeral with Olsen, Arthur's brother and best friend Phillip attended as well.
"Sam was very excited to see Philip. She's known Philip her whole life and he has cared for her in times when Arthur was in the hospital," Olsen said.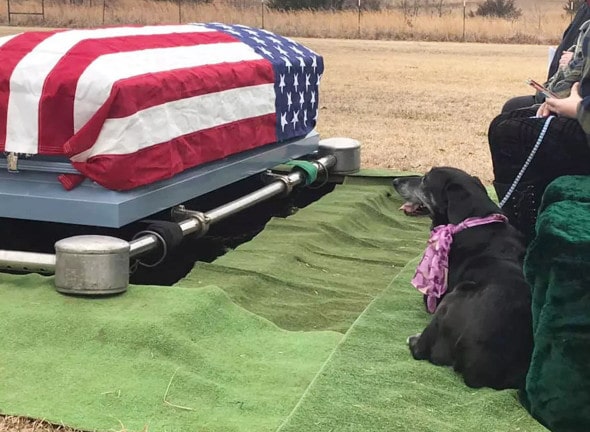 The Lab was also excited to see Arthur's brother, even though this was the first time she met the man. Olsen believes that he "may have smelled like Arthur and sounded like him." After saying her hellos to the visitors, Sam "remained very calm throughout the service."
Before the casket was lowered into the ground, it was opened so the funeral attendees could say a final goodbye to Arthur.
"The family allowed her [Sam] to be the first to go and say goodbye. She was excited to see his face and definitely recognized him, but after a few moments she came back to me and sat next to my leg," Olsen said of Sam's farewell to Arthur. "She could definitely tell he was no longer there."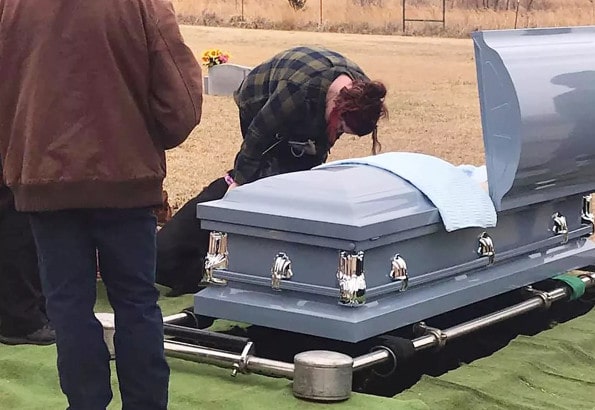 The other big goal that 1 Day Ranch has for Sam, now that the funeral is over, is to get her to the best health possible. Arthur showered the senior dog with love, but was unable to keep up with her medical care because of his own health issues.
1 Day Ranch has been working to address some of the Sam's more pressing health problems. Now that Sam has started to overcome her grief, she is eating regularly, which means she can start her deworming program. The sweet senior has also been put on hip dysplasia and arthritis medication, and is receiving treatment for her overgrown nails. All of this has increased Sam's mobility and allowed her to walk comfortably.
Sam's soul is healing as well. The more time she spends at 1 Day Ranch, the more she opens up to the love and support her new home has to offer.
"In the days since the funeral she has been settling in well here at the ranch. She is getting into a routine and still spending most of her day with DJ — the cattle dog mix who has become her best buddy," Olsen said. "She still just wants to cuddle and be with us as much as possible."
Olsen hopes those following Sam's story "think more about animals and their emotional intelligence."
"We hope that maybe some people might see this story and gain a new respect for animals, their emotions, and the fact that they are sentient beings who feel much more than many give them credit for," she said.
SEE ALSO: Owner Spares No Expense to Give Beloved Staffordshire Bull Terrier a Heavenly Farewell with Horse-Drawn Hearse and Dove Release