dog owner has shared emotional footage of the moment she said goodbye to her 18-year-old Shih Tzu as her canine best friend quietly passed away.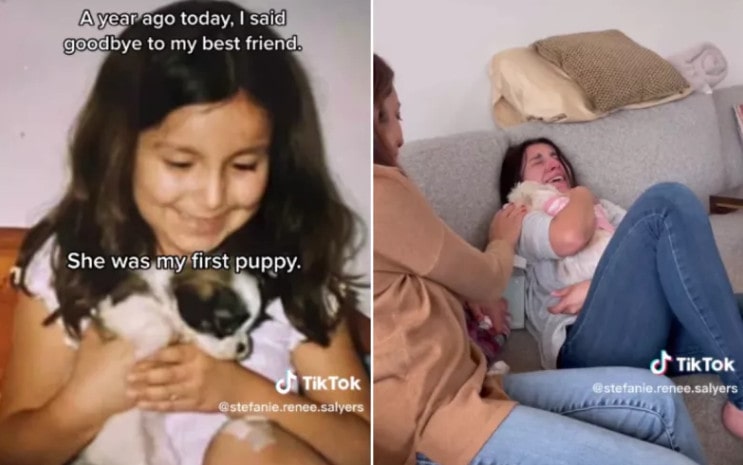 It's heartbreaking to lose a beloved pet, especially one that has been a part of the family for such a long period of time.
The pain can sometimes be too difficult for some to bear.
In 2017, the New England Journal of Medicine reported on an instance where a woman suffered from 'broken heart syndrome' following the death of her dog. A stress-induced but thankfully non-fatal form of cardiomyopathy, the pain is often so severe it gets mistaken for a heart attack.
In that instance, the 61-year-old woman cited the death of her much-loved canine as a chief stress inducer. Cases of this kind had been reported previously but they were prior involved someone reeling from the end of a relationship.
But the death of a pet such as a dog can feel like the loss of a much-loved family member and one that is difficult to move on from.
It's been just over a year since Stefanie Renee Salyers held her sweet Shih Tzu, Princess, one final time as she slipped away. Yet the pain of losing a dog that was by her side throughout her formative years is still raw.
Stefanie, who is a professional dancer and actress, took a leave of absence from a national tour with the Broadway show Tootsie, when her mom, Inga, told her that Princess was growing frail.
"She wasn't eating. She couldn't hardly stand on her own. She was wobbly and lethargic," Stefanie told Newsweek. "She had been sick before but this felt like something beyond that."
She rushed home as soon as she could to be by Princess' side. "I got to spend the day with her, hold her, cry with her, and most importantly see for myself that it was time," Stefanie said.
Stefanie was just seven years old when her parents presented her with a white Sears gift bag on her birthday that contained a gift she would cherish more than any other: a puppy.
"When I took her out, she was so tiny and cute, I thought she must have been one of those robo-dog toys," she recalls. "I picked her up to look at her belly for a button or a battery slot. When I put her down, shook her little head as if I had messed up her fur. Only then did I realize that she was a puppy. My puppy."
The pair struck up an immediate bond with Stefanie treating Princess to imaginary "spa days" with the prized pup pampered with dog treats and hairbrushes.
"She absolutely LOVED a squeaky toy," Stefanie recalls. "Tennis balls were a hit too. The regular ones were too big for her mouth, but we loved to watch her wrestle with them."
Inga recalls Princess as being "very curious and very attached to Stefanie" from the moment she became part of the family.
"She went through separation anxiety when Stefanie was away at school or went to dance class," she said. "Princess loved when Stefanie's friends came over to play and she was in the center of it all; she especially loved sleep overs."
As time went on, Princess settled into a routine that saw treated like a "true princess" with nights (and occasionally days) spent sleeping on Inga's bed and evenings snuggled in front of the TV with the family. "Princess's spot was right in the center of the back of the couch," Stefanie recalls. "She demanded to share our popcorn, and as her loyal subjects we forced."
Even so, Princess still faced her fair share of challenges. At age 10, she was diagnosed with a genetic condition that would eventually leave her entirely blind. But, as Stefanie notes "Princess was no quitter."
"She learned to get around by using her long ears to navigate the walls and furniture in the house," she said. "Eventually we got her a halo that served as her white cane."
Soon enough, Princess was back to her old self, with Stefanie even recalling an instance where she was able to sniff out a bag of dog treats that had been left in the kitchen and feast on the goodies inside.
Princess went on to enjoy another eight years of blissful existence but, eventually, Inga could sense their happy dog was nearing the end.
"As a senior dog, Princess had several trips to the vet and every time she rebounded very quickly. I always let Stefanie know anytime she was sick but the last time she was not looking well and she was not her stubborn demanding self," Inga said. "She was tired and telling us she was ready."
Once Stefanie had returned home and saw Princess for herself, they asked a vet to come to their house to put their precious pup to sleep, happy and safe in the comfort of her home.
"I held her in my arms," Stefanie said. "As she took her final breaths, I whispered to her how much I loved her, that she was the best dog, and thanked her."
A year has passed since Princess passed on, the loss has left a void in the family.
"Not a day goes by without remembering her," Inga said. "Her absence has left a huge emptiness in our home."
Eager to remember her beloved dog, Stefanie created a video capturing her journey through life with Princess and that heartbreaking final goodbye. The clip, which was shared to TikTok under the handle stefanie.renee.salyers, has been viewed over 24.5 million times.
Her experience evidently resonated with many on social media.
One viewer commented: "I know ur pain! I lost my fur baby 9/10/22 he was 16 yrs old. I still cry" with another writing: "the pain is awful. I lost Max 2 years ago. It still upsets me…" A third said: "I lost my beautiful fur baby a year ago and I still cry. My heart will never fully heal."
Despite her sad loss, Stefanie has taken heart from the response online.
"For an animal lover like myself and the millions of people who resonated with my tribute to Princess, that intense grief always represents how much we loved our pet and will," she said. "And that love for our pet, for all animals, is what will inevitably allow us to love again."
SEE ALSO: Celebrating the Unbreakable Bond: Heartbreaking Hug between Dying Dog and Owner in Final Farewell