All animals deserve to have a forever home. This would be more priceless when they were abandoned, have been waiting in shelters for months to get adopted, or had an unhappy experience with their old owners. But no matter how old a dog gets or how long they've been in a shelter, they still deserve a chance at happiness.
One shelter is doing its best to find a forever home for their oldest fury friend. They posted one heartbreaking photo that tells her whole story.
Ginger is a Labrador retriever mix located in Lake of the Ozarks in Osage Beach, Missouri. She's a good dog that loves to play but sadly, no one has ever given her a home.
The poor dog is waiting for almost eight years to find someone who will love her and take care of her. She lays behind bars watching her fellow shelter buddies get adopted one after the other.
This viral photo shows Ginger looking sad in her kennel, while a sign outside tells her story: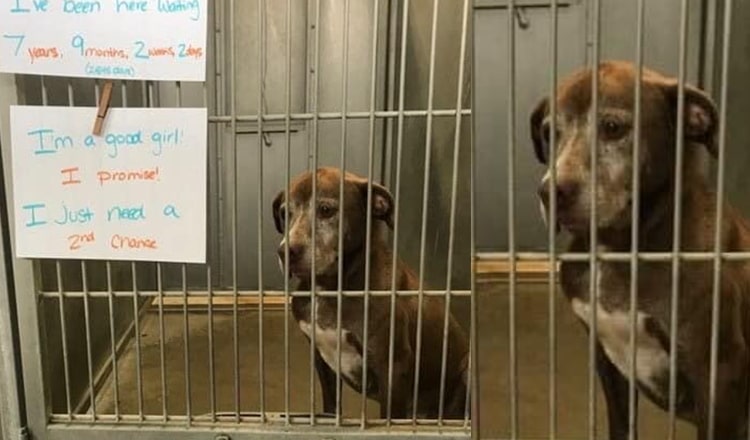 "Hi! I'm Ginger! I've been waiting here 7 years, 9 months, 2 weeks and 2 days."
"I'm a good girl! I promise! I just need a 2nd chance."
It's a heart-tugging photo, and it's certainly gotten people's attention: it's currently been shared over 14,000 times in just a day.
Ginger doesn't need much…She's sure to love you forever for giving her the "second chance" she's been waiting for.
Let's find this poor dog a home! Spread the word by sharing this story!