George came to Pet Tales from Kent Region Animal Sanctuary after being located by the landlord of an empty apartment building. In spite of being in rough shape, the poor puppy was left and laid off when his previous owners moved away.
His rescuers found this almost inconceivable as George is not only extremely adorable, but he's super wonderful and was clearly in a great deal of pain.
Wonderful little George has been a resident at Pet Tales since the week before Thanksgiving. Though we doubt he would certainly still exist if it wasn't for the fact that he had a few hoops to jump dreams through before he can frolic off right into the sunset with the forever family of his.
See Also : Shelter Dog Smiles Every Time Somebody Calls Her Pretty
First, he had to lose some weight, as George was extremely obese when he showed up. In fact, it was all of this extra weight that had contributed to his need for surgery. Once he successfully slimmed down via diet change, it was safe for him to have the pricey yet incredibly worthwhile surgical treatment.
You see, George's condition was rather serious. He had a torn ACL and a luxating patella in his right knee. (Medical needs that had been totally neglected by his previous owners.).
That means his kneecap would basically "pop out of place" or remain in an inappropriate setting. This was causing him pain and forcing him to walk on just three legs. He still managed to get around, but he typically had to walk with one leg at a time and looked a little bow-legged when he moved.
Chihuahuas are among one of the most usual breeds diagnosed with luxating patellas, but this pint-sized puppy had a particularly serious case.
The surgical treatment completed just under $3,200, but little George was worth it. The rescue raised a part of the proceeds with multiple Facebook fundraising posts and a Facebook birthday fundraiser.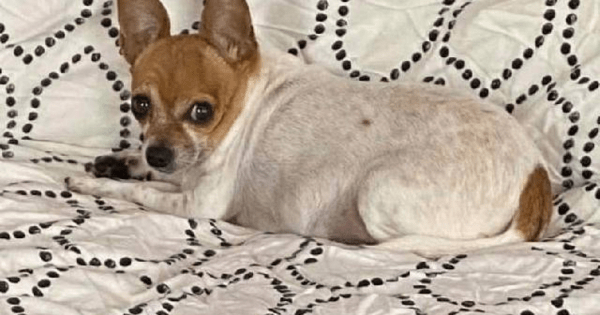 While Pet Stories has actually paid the bill at George's specialist's office, they are still $2,000 short in increasing enough money to cover the whole price, and he will likely need surgery on his other leg in the future.
George returns to the orthopedic surgeon on April 4th to have his staples removed and to see just how his leg is recovery. If the vet gives him the "all clear," he can formally be listed for fostering!
If you wish to adopt this wonderful other, submit an adoption application on their website. ( Remember fuzzy blankets are a must for George's new home.).
SEE ALSO: Surviving Against the Odds: The Miraculous Tale of an Abandoned Ill Dog and Her Puppies Left to Starve in the Wildernes